The RPM Control Panels are the foundation of every Reinke control system and come in four models;
> RPM Basic > RPM Standard > RPM Advanced > RPM Touch Screen
Each is custom built for years of trouble-free use and easy upgrades for additional control or methods of communication.

TECHNOLOGY INSIDE A TOUGH-AS-NAILS CONTROL BOX
Technology and Mother Nature don't always go together. That's why every RPM control panel is enclosed inside a corrosion-resistant, powder-coated aluminium control box. The outer door is equipped with a watertight seal to keep out the elements. And for those windy days, each panel comes equipped with a pneumatic strut that keeps the outer door open - no pinched fingers here. All of these unique features add up to the most durable and long lasting main control panel in the business.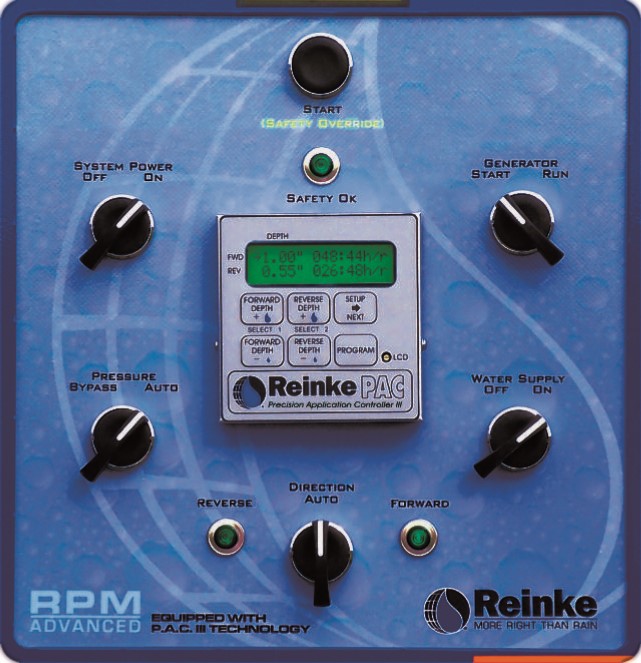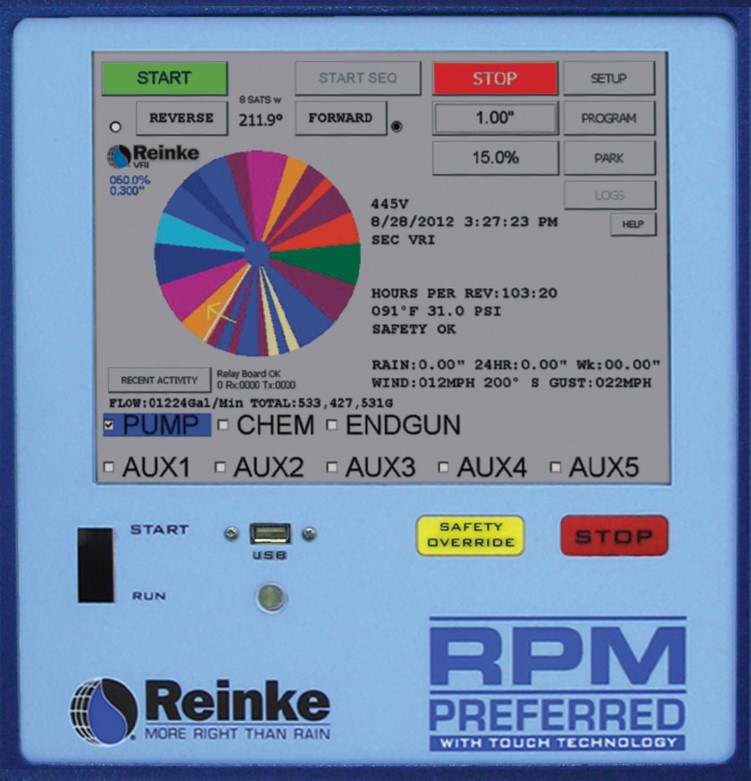 RPM ADVANCED
> Equipped with digital PAC III timer that provides increased features and accuracy
> Integrated GPS end-of-system controls for unparalleled accuracy
> High quality, powder coated aluminium, corrosion resistant, main control panel
Features include
Easy to program
30 to 60-second cycle time options
ReinCloud compatible
Customised speed and end gun settings in up to 10 different sections of your paddock
Control two end guns or one end gun and another auxiliary output
Delay at selected barriers
Repeatable accuracy
RPM ADVANCED
> Equipped with digital PAC III timer that provides increased features and accuracy
> Integrated GPS end-of-system controls for unparalleled accuracy
> High quality, powder coated aluminium, corrosion resistant, main control panel
Features include
Easy to program
30 to 60-second cycle time options
ReinCloud compatible
Customised speed and end gun settings in up to 10 different sections of your paddock
Control two end guns or one end gun and another auxiliary output
Delay at selected barriers
Repeatable accuracy